Stan Mosley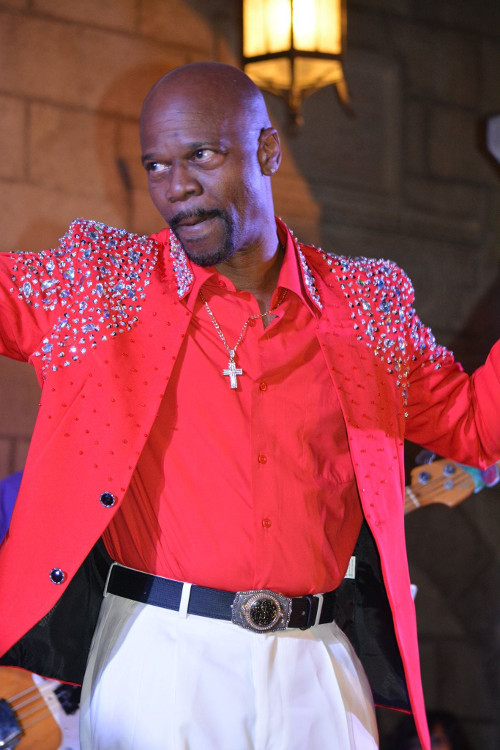 Like so many worthy Southern Soul artists, Stan Mosley has recorded at least two songs of such incredible merit that it's almost impossible to choose between them. Anybody Seen My Boo is the more well known chitlin' circuit hit, and the one your Daddy B. Nice has personally played the most. But although it's more modest, a little slower, and perhaps a little less innovative, the Stan Mosley song Daddy B. Nice would take to a desert island is Mosley's Rock Me (Until I Cannot Stand This Rocking Any More) from The Soul Singer CD, Malaco, 1998. — Daddy B. Nice
Stan Mosley was born in Chicago, IL. By Stan growing up in the church, his passion for music started there with the encouragement of his mother. Throughout his youth, Stan was praised continually for his vocals which lead him to perform professionally. Presently, Stan Mosley has been performing professionally for over 46 years.

Mosley began singing in 1969 and In 1974 he moved to East St. Louis, IL. and joined a group named The Sharpees, which later toured as a back-up band for Shirley Brown. In 1976 Mosley returned to Chi-town, and he spent years performing on the city's extensive club circuit, but had yet to be signed let alone release a record. At some point in time, Mosley recalls, I have either opened for or performed in the same venue as just about every major soul or blues act in the business. His acclaim grew and, for two years running, he captured the important Chicago Music Award (in 1982 and 1983) for Best Male R&B Vocalist. By the mid-eighties, however, like so many of his R&B peers, he found the climate for adult R&B too hostile to continue.

By 1986 Mosley was fed up with the music business and joined a music ministry known as The Company in Chicago. But he came back in 1992 and returned to East St. Louis to team up with Gus Thornton to write several songs, which were released on his own Stand Up label as the LP Standing Tall. They're very good songs, but unfortunately I had no distribution, he said. Butler Records re-released his album in 1995. He was also touring as the opening act for Cicero Blake, while also serving as Blake's driver and valet. In 1997, he found Malaco Records. Composer William Payton, who had co-penned Tyrone Davis' 1997 hit single Freak on Malaco, introduced him to Tommy Couch Sr. for a fifteen minute meeting. Tommy agreed to hear Stan's demo tape and fifteen minutes ended up being hours-and Mr. Couch signed me to his label! Ace producers like Charles Rich Cason, Couch, Floyd Hamberlin & Wolf Stephenson helped craft three strong albums for the label that should've catapulted Stan to Soul Brother #1 in the Southern Soul/Soul Blues world. The records did well but Mosley left the label disenchanted.

In addition to Rock Me and Anybody Seen My Boo, Stan Mosley scored Stations of the South radio hits with 1998's Ain't No Woman (Like The One I've Got) (Souled Out) and 2002's No Mistake (Do Right), both on Malaco.

In 2003 Mosley moved to New Orleans-based Mardi Gras Records, where he put out one album, Good Stuff, before finding himself on the independent level. In late 2005 he sent out promos for his upcoming CD Steppin' Out and response was enthusiastic. Steppin' Out was a bigger hit in Japan than any other part of the world. Mosley signed with new California-based label CDS Records in late 2007, and in 2008 he released Man Up, his best album since the Malaco days, with producer/composer Floyd Hamberlin, Jr. and the brand new I'm Comin' Back in 2009. The latter was produced with a deliberate nod to classic Soul in the Bobby Womack/Teddy Pendergrass style. One more albums followed in 2010 I Like It!, mostly a grab-bag of remixes of previously released material. Stan Mosley continued to perform on the Chitterling circuit and in his hometown Chicago, IL from 2011 — 2015 without putting out any new music.

2015 would prove to be a pivotal turning point in his career when Graziano Uliani promoter for the largest soul festival in the world, flew from Porretta, Italy and convinced Stan Mosley to be a part of the line-up tour for the 2016 Porretta Soul Festival.

His performance at this world-wide televised event was classy, soulful and well received. His voice along with the dynamic talent of the Bey Paule Band reminded the world of what soul music is all about and upon his return to the states, he embarked upon recording what is touted to be his best body of work yet with legendary music producer and song writer Bobby Eli of Philadelphia, PA who has played an integral part in the success of artist like, the OJays, Theodore Pendergrass, Luther Vandross and The Stylistics, just to mention a few.

Stan Mosley experience has brought his stage skill performance to deliver a high bluesy energy that has touched thousands of people over the years. Stan smooth voice carries soulful spice with Southern Soul flavor style that hypnotize the audience to become faithful and constant supporters of his unique sound.

Stan hopes to join the ranks of these Platinum and Gold album producing artists as he launches the release of his new album entitled Soul Resurrection.